Dispensary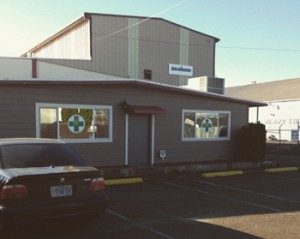 When you're looking for a local dispensary, NE Portland locals want  to find everything you need right in one place. CannaSource was established as a comprehensive dispensary for every patient . We work with a large number of different customers. Patients all have unique needs. There is one thread they share though, they need a dispensary in NE Portland where they can acquire independently tested, high quality products that meet their needs.
Your neighborhood dispensary in NE Portland
We pride ourselves on having a knowledgeable staff, friendly atmosphere, and large product line. A great dispensary in NE Portland, is more than its individual pieces. Clients rely on our expertise and medical marijuana specialists to help them find the right medication for their conditions. Medicinal options like those we provide are gaining continual traction. We frequently help patients utilizing conventional medicinal methods in addition to our natural medical options. With research frequently identifying new uses and compound benefits in the products we carry, we'll continue to keep a robust line of products for every patient.
Come to The Source and experience the difference!
We spend time with our patients. We want to know why you've come in, what condition you are seeking to treat, and what you are looking for from treatment. Becoming a trusted dispensary NE Portland patients can depend on takes a dedicated staff. That's why you'll find:
A staff that knows their products, uses, advantages, disadvantages, and how to match a medicine to a patient.
A great selection of medicinal delivery systems and medicines for your specific needs.
Independently tested products that specify THC and CBD measurements in accordance with Oregon State law.
An environment tailored to provide patients with a comfortable and easy shopping experience.
A rotating line of products that include the latest strains, edibles, concentrates and topicals from your favorite companies.
A Dispensary for Every Need
Our product line and knowledgeable staff will help you choose from our wide selection of products. Our suggestions are based on your individual needs so that we can help you find a medication that works for you.
Cannabis – We have great relationships with local growers and have the best product on hand. Our selection comes in a variety of strengths. From high CVD varieties to THC, CBG, and THCV heavier strains, our NE Portland dispensary staff will ensure you get the best medicine for your ailment.
Concentrates – With an increased potency over other delivery systems, this can be a great choice for those who need strong medicinal properties. A variety of use methods make this popular with those looking for a strong recreational option.
Edibles – For personal or medical reasons, many of our patients rely on medicinal edibles for their health. Our dispensary in NE Portland works with local producers of the best artisanal edibles to bring you a great tasting, high quality selection.
Topicals – In a variety of sprays, ointments, and salves, infused topicals can provide relief for a variety of conditions. As one of the newest medicinal options on the market, we can help you determine if topicals are right for you.

Your Friendly Neighborhood Dispensary
With products for every taste and knowledgeable staff, our dispensary in NE Portland has a great atmosphere as well. With a small neighborhood feel and relaxed environment, we can really get to know our customers on a personal level. The more patients we can help, the more pain free our favorite city can be. You deserve the highest quality medicine from a safe dispensary in NE Portland that cares, call (971) 254-4374 or Contact Us today.