Dispensary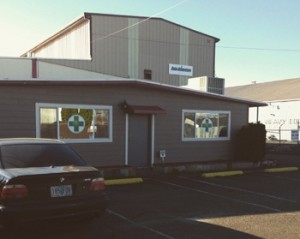 As your local dispensary in Portland, at CannaSource we take great pride in providing Portland with the best source of high grade, affordable, medicinal and recreational marijuana. We work with growers in order to procure the highest quality products for our patients. We work with caregivers to determine the most effective solutions for their patients, and we work directly with patients seeking high-quality medicinal herbs and products.
Your local Portland dispensary!
When we say we're your dispensary, we mean it. We've designed our facility to showcase our high-quality products in a relaxing and homely environment. This makes the shopping experience comfortable, and we get to know our customers by name. We take the delivery of your medication seriously. It's our job to help you find the right medicine for your needs, and we're proud to provide it at affordable prices. We love what we do, and we look forward to helping you on the path to wellness.
A Dispensary for Every Need
We know that every customer has different needs. That's why our staff have extensive knowledge of all our products. Effects, delivery methods, and whether a patient is using our products for recreational or medical use can all determine their needs. With a variety of medical grade products on hand, we don't just cater to one specific need. We carry medicine designed for every available delivery system, these include:
Cannabis – We carry the best locally produced strains. All of our products receive independent outside testing, and no matter what CBD to THC ratio you're looking for, we've got a strain to meet your needs. Frequent daily and weekly deals mean you'll always find a smart buy and a new strain to try.
Concentrates – These can be a great option for a variety of needs. Those who want to exercise discretion will enjoy the portable options. We carry concentrate refills for your preferred vaporizer as well as disposable cartridge pens for easy cleanup. Additional concentrates include shatter and wax when potency matters most.
Edibles – For many, smoking isn't an option. Edibles come in a wide range of sizes, types and flavor profiles from sweet to savory. These products are upheld to our same high standards, and we'll help you find the perfect medicinal snack in our Portland dispensary. We carry candies, baked goods, lozenges, mixes, and other varieties including gluten free.
Topicals – These are the perfect solution for those who want relief without psychoactive effects. Topicals can benefit a variety of conditions like soreness, stiffness, inflammation and more. These come in balms, creams, lotions, and more.

Your Friendly Neighborhood Dispensary
Only exceptional customer service can complement our great variety of products and professional demeanor. We treat all of our patients as individuals. Finding you the best medicinal solution for their condition is our pleasure. Our dispensary delivers a personalized experience. You're more than just a patient here, you're a friend. For exceptional service, a wide range of products, and knowledgeable staff in a relaxed atmosphere, make us your dispensary in Portland. Call (971) 254-4374 or Contact Us today.